Paris, capital of fashion with New York, London and Milan is the perfect place to go shopping. These numerous shopping centers, small shops and thrift stores fill the addicts of shopping (to the detriment of their bankers …).
Paris welcomes every 4 years the famous Fashion Week fashion show, and most recently that of Victoria's Secret, the brand of underwear worn in the "angels" appreciated from the 4 corners of the world.
Shopping Centers in Paris
Top of the line
Top of the line
1) The Galeries LaFayette €€€
40 Boulevard Haussmann, 75009 PARIS
(Subway 3, 10, 13 and 14 Station St. Lazare)
It is 300 meters from the Opera Garnier one finds one of the most famous places in the world to do its shopping! You guess? I'm talking about the Galeries LaFayette in the Boulevard Haussmann. The place is also known for being the venue for the event and for its Christmas illuminations.
Everyone can shop there, shops offer products for every budget.
The 3,500 international brands in this commercial center of 70,000 square meters range from affordability to luxury. Fashion, jewelery, beauty, gastronomy and cultural events come together to make you experience a unique shopping experience. A choice of 25 restaurants is available.
Most ? The Ice Cube Bar (not to be confused with the Ice Kube Bar, at 5 Passage Ruelle, 75018 Paris) offers you an elusive view of the capital around tapas and a glass of champagne on the 7th floor of the dome. Its 2 glass domes.
Open from Monday to Saturday from 9:30 am to 8:30 pm
And Sunday from 11:00 am to 7:00 pm
Our opinion: The Galeries Lafayette is the shopping center of Paris that you should see, especially if you are a tourist. One finds many of the biggest brands as well as quality in the products. Moreover, even if you do not buy anything, it is pleasant to be able to circulate among products from the four corners of the globe. Other highlights: the restaurant which, whatever the restaurant you go, will be of quality, and the view of Paris from the roofs of the Galleries.
2) Le Bon Marché €€€
24 rue de Sèvres, 75007 PARIS
(Metro station 10 and 12 Station Sèvres-Babylone)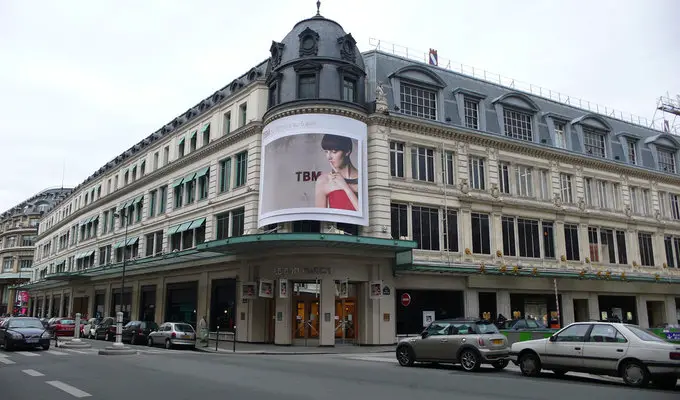 Credit © Yisris
Located just 10 minutes from the Jardin du Luxembourg, and a quarter of an hour from the Montparnasse Tower you will find Le Bon Marché.
It is the pioneer of Parisian department stores and has greatly contributed to the image of French luxury that we know today.
Do not be fooled by its name that would sound like a store being affordable, quite the opposite. But one thing is for sure, even if the customers pay the price, they are very rarely disappointed (see never …).
You can buy high-end gastronomic specialties: from wine, to cheeses to the famous macaroons. But also world-renowned designer dresses such as Marc Jacobs, cosmetics and high-end care such as By Terry or La Mer, as well as jewelery from the prestigious Cartier house.
Thousands of tourists from all over the world travel to Paris every year, with the sole aim of buying the products of these prestigious brands.
Open every day from 10h00 to 20h00
and Thursdays & Fridays from 10h00 to 20h45
Our opinion: You will find here also the names of luxury brands that will make the happiness of big budgets, because yes if you ask for quality, the price comes with. However, you will meet fewer people than in other department stores so it is much nicer to walk through the alleys and take your time to make your choice. The animations and temporary exhibitions are interesting. Ideal time to go: sales period to really do business.
3) Beaugrenelle €€€
12 rue Linois, 75015 PARIS
(Metro 6, Station Bir-Hakeim)
Credit © Benjamin Garrett
It is the most environmentally friendly shopping center in Paris and is recognized by the label of High Environmental Quality.
It owes this label to its glass structure allowing light to enter and its metal mesh composition allowing thermal self-regulation.
It is the most pleasant to view and is in keeping with the idyllic setting of the Eiffel Tower which is only a 25 minute walk away.
Beaugrenelle is a separate shopping center in three separate islands.
The first is the Magnetic Island, which includes mostly high-end fashion stores such as Aigle, Michael Kors, Zadig and Voltaire, and Hollister with leading brands such as H & M, Celio and Zara. Followed by shops of beauty and luxury Agatha or Guerlain, it is the paradise of fashionistas.
The Panoramic Island, on the other hand, consists of the 14 restaurants and the 4-storey Mark and Spencer (offering clothing, decoration, and pure British food).
Finally, the block City, which is located at the foot of the building, brings together services and shops of proximity like La Poste or the bank CIC.
Its cinema Pathé offers numerous sessions in its 10 screening rooms but also a large number of avant-premieres, operas, concerts and ballets.
Open from Monday to Saturday from 10h00 to 20h30
And on Sunday from 11h00 to 19h00
Our opinion: other landmark of luxury boutiques but the presence of affordable shops for the average budgets is quite appreciable. Similarly, for the presence of shops a little harder to find than a H & M like Uniclo for example that will delight more than one. Spacious, pleasant, design, comfortable, there are few people and this even in period of sales. Other highlights of the center: it is open on Sundays, which is a plus if you do not have time for you in the week, and the views on the outside are very nice and enjoyable throughout the building almost totally glazed .
4) Le Printemps Haussmann €€€
64 Boulevard Haussmann, 75009 Paris
(RER A – Station Auber, Metro 3 and 9 – Station Auber)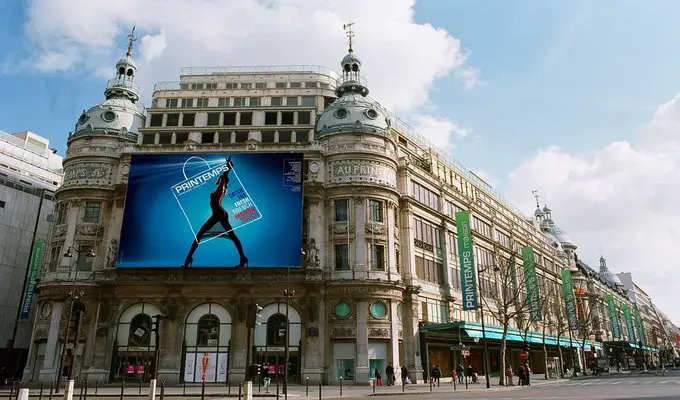 Located in the heart of Paris, near the Opera Garnier, Printemps Haussmann is one of the main luxury shopping centers in Paris. The facades and roofs (except the modern elevation) of the old shops are inscribed in historical monuments.
You can find the main brands of fashion, luxury and beauty. They are divided into themes in the three buildings of the store, all on 27 floors. At "Printemps de la Mode" you will find brands such as Dolce & Gabbana and Karen Millen, at "Printemps Beauté" you will find Vogue and Laura Mercier, at "Printemps Homme" brands like Armani and Levi's.
Depending on the period, it also organizes events and workshops such as hairdressing workshops or tastings according to the guest.
For dining, you can enjoy a meal at the Brasserie Printemps, taste some macaroons at the Maison Ladurée in a Napoleonic decoration, a coffee at Café Pouchkine, a gourmet and unmissable rendezvous in Moscow, or eat on the rooftops of Spring At the Deli-Cieux.
Finally, if you come during the holiday season, you can always come to admire the windows, garnished for the occasion of magnificent Christmas decorations.
Most ? The Personal Shopper.
Open from Monday to Saturday from 9h35 to 20h00 (except Thursday: 20h45)
Our opinion: one of the most beautiful shopping centers of the capital. It is literally a labyrinth for luxury goods, ideal for a tour or to get some little wonders. We love: the terrace offering a breathtaking view of Paris and its restaurant.
5) The Carrousel du Louvre €€€
99 Rue de Rivoli, 75001 Paris
(Metro 1 and 7 – Palais Royal Station – Louvre Museum)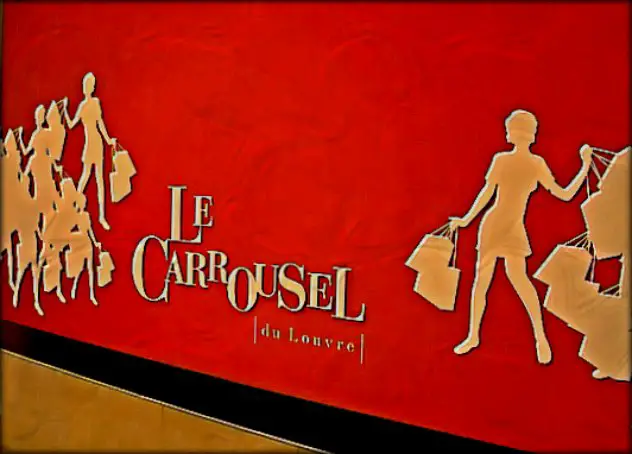 Credit © Mariag .
The Carrousel du Louvre is an area located under the Jardin du Carrousel, right next to the Comédie-Française, the Musée d'Orsay and the Louvre Museum.
It is both a shopping mall, a restaurant space and also a cultural space.
In the shopping center you can find accessories and fashion boutiques (Lacoste), beauty shops (Bickici, Pandora, Minerals) and health (Omey), Apple stores and entertainment, Decoration (YellowKorner) but also a hypermarket and the chocolate maker Pierre Marcolini.
Dining options include McDonald's, Starbucks for fast food; Or more diverse in the Restaurants du Monde with Beaudevin (French cuisine), Meltem (Mediterranean cuisine), Mira (Spanish cuisine), Salam (Moroccan cuisine), Soï (Asian cuisine), Tazio (Italian cuisine).
Le Carrousel is also a space devoted to art. Not only does it offer a passage to the Louvre Museum, but it also hosts exhibitions in its congress center, and an archaeological space with the walls of the walls of Paris.
Open from Monday to Sunday from 10am to 8pm.
Our opinion: this shopping center is a real underground city, aesthetic and luxurious where one finds plenty of modern and luxurious shops. You can buy replicas of works from the Louvre. The catering is for all tastes as you can taste dishes from the end of the world and for all budgets. Its strong points: its exhibition space to host various fairs and events and its access to the Louvre. We like less: the world, due in particular to its location near the Louvre.
Midrange
6) The Forum des Halles €€
101 Porte Berger, 75001 PARIS
(Metro 1, 4, 7, 11, 14 & RER A, B, D Station Chatelet / Les Halles)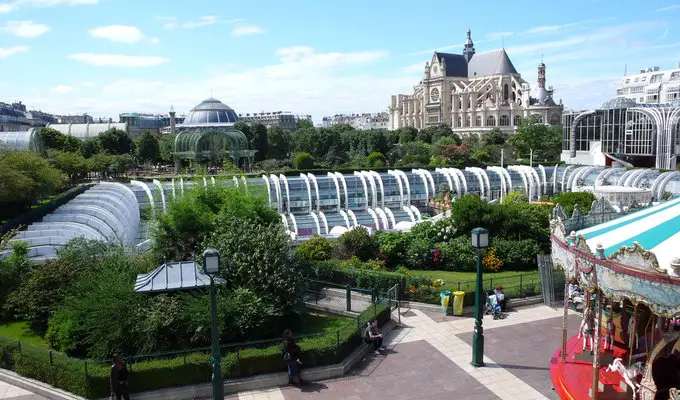 Credit © Mohsan '
Located in the heart of Paris, very close to the most famous and visited museum in the world: the Louvre Museum, is the Forum des Halles.
Its subterranean boutiques and its brand new canopy, with the sandy color and the shape of wavy leaf (having nevertheless required 5 years of construction), delight both the Parisians, the tourists and the Parisians.
This is due to the presence of many major clothing stores such as H & M, Jules, Naf Naf and Super Dry as well as many beauty shops such as Sephora, The Body Shop, KIKO and Marionnaud.
Note that some shops are exclusive here! This is the case of the wellness and beauty shop Rituals, which has been very successful in English-speaking countries. There are other outlets at Galeries laFayette, Sephora stores and BHV Marais.
There are also leather goods in Lollipops boutiques and the fashion accessories store 1,2,3.
But also the world famous footwear merchants such as André, Eram or Minelli. There are also many jewelry shops such as Agatha or Histoire d'Or.
Note that for all categories, the ranges vary and prices follow. What to match the budget of each.
Open from Monday to Saturday from 10h00 to 20h00
and Sunday from 11h00 to 19h00
Our opinion: lots of different shops, you find absolutely everything in the forum. It is a covered center, so the shopping break is easy when it rains. Its very central location makes it a very popular shopping center.
7) Italy Two €€
30 Avenue d'Italie, 75013 Paris
(Metro 5, 6 and 7 – Station Place d'Italie)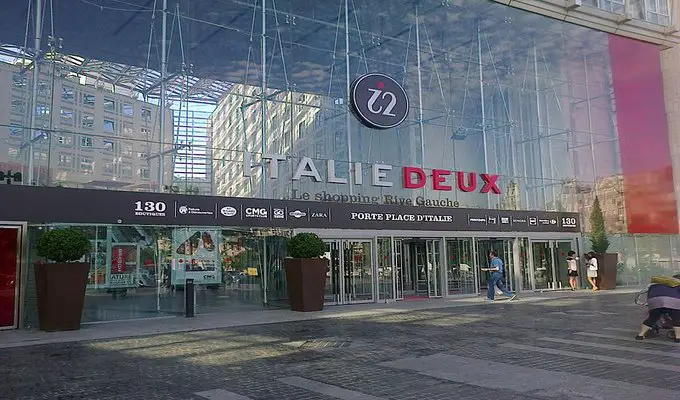 Credit © Mickael Denet
Italy Deux is a shopping center in the 13th arrondissement of Paris, containing nearly 130 shops and restaurants.
There are jewelery stores, shoe shops, decoration, fashion, beauty and health, multimedia, culture and entertainment, as well as toy and gift shops, as well as a Carrefour Market supermarket.
Among the jewelers, you will find various names like Agatha, Guérin Joaillerie or Ouroboros.
For shoes, you will see Adidas, André, Eram or even Minelli.
For fashion boutiques, you can visit Un, Deux, Trois, Armand Thierry, Camaïeu or Promod and you will have a wide choice of clothes and prices.
In the beauty shops you can find famous names such as Marionnaud, Sephora or even Yves Rocher.
You will also have the possibility to eat in restaurants that are different from each other and for an affordable budget such as Hippopotamus, La Croissanterie or Paul's chain or even more simple Subway or McDonald's.
Open from Monday to Saturday from 10 am to 8 pm (except Thursday: 9 pm)
Our opinion : There are all kinds of shops for large but also smaller budgets. It is suitable for all needs, whether catering, common purchases, clothing or other.
Shopping Centers near Paris
8) The 4 Times & the CNIT €€
2 Parvis de la Défense 92092 Paris – La Défense / Puteaux
(Subway 1 and RER A Station La Defense / La Défense Grande Arche)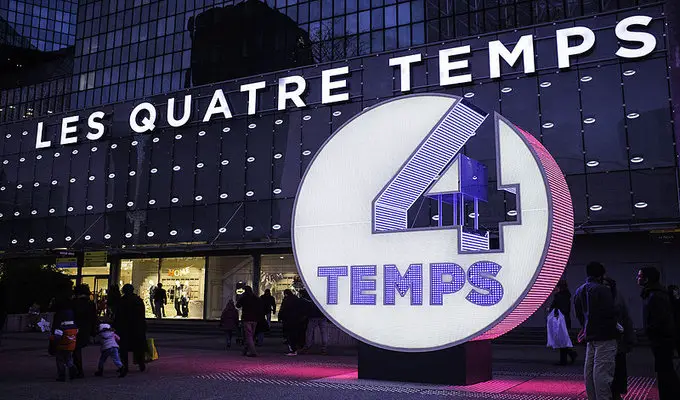 Credit © Jakub Szypulka
Located in the La Défense district, 6 km from the Arc de Triomphe, this area is known as the first European business district with many corporate offices and luxury hotels to accommodate this clientele. 'case.
With its Grande Arche, its enormous buildings and its sight in the distance of Paris this place is full of charm.
Two shopping centers are just 400 meters away, both facing the Grande Arche, separated by the forecourt of La Défense.
Les 4 Temps is the biggest shopping center in Europe, with nearly 240 clothing, decoration and beauty shops.
It hosts many famous clothing stores from around the world such as Mango, H & M, C & A, Bonobo and Esprit.
A large part of the center is devoted to restoration. There are fast restorations with giants McDonald's, Burger King, and KFC, many sandwich shops, Hippopotamus and finally the seafood specialist Matsuri.
Just like Rituals for the shopping center of the Forum des Halles, the 4 Temps have the exclusivity of the NYX boutique, American brand of professional makeup at low prices.
The CNIT, located just opposite, includes "only" 50 stores of leisure, food, decorations and well-being as well as a travel agency. Among them, we find the Fnac, Monoprix, or Habitat.
Open every 2 from Monday to Saturday, from 10 am to 8 pm
And on Sunday from 11 am to 7 pm
Our opinion: well located in the business district of La Défense and accessible by the metro and RER, the shopping center is spacious and bright. There are plenty of shops that can suit everyone and all budgets, as well as on-site or on-the-go dining. So it can make everyone happy. Events are sometimes organized, which is a good point. Strong point: its wide choice of shops.
9) So Ouest €€
31 Rue d'Alsace, 92300 Levallois-Perret
(Subway 3 – Station Louise Michel, Train L – Train station of Clichy Levallois)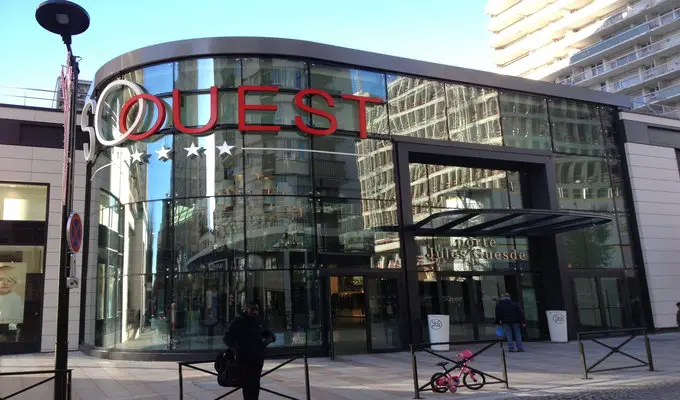 Credit © Jean Louis Zimmermann
This shopping center is located in Levallois-Perret, near Clichy-la-Garenne and Porte d'Asnières in Paris (17th arrondissement). Built in urban areas, it has been decorated in a design and Louis XV style and is part of a sustainable development policy. In addition, television screens and olfactory diffusers have been installed throughout the center to create a different atmosphere depending on where you are.
This shopping center has a fully underground hypermarket and a supermarket on the ground floor.
There are shops for decoration, fashion, beauty and health, games, multimedia, culture and leisure, as well as a cinema.
So you can find shops Zaz, Mango, H & M, Camaïeu, Sephora, Marrionaud, Micromania or Nature and Discoveries.
You can also dine at one of the restaurants in the mall such as Fratellini Caffe, McDonald's, Ready to Eat, Bagelstein or HD Diner.
Open from Monday to Saturday from 10:00 to 20:30.
And on Sunday from 11:00 to 19:00.
Our opinion: very beautiful, bright and modern shopping center with a lot of shops for all budgets. There are cheap shops (H & M, La Chaise Longue), more chic shops (Sud Express, The Tops). It is less crowded than other major shopping centers, so you do not jostle. Its strong point: its screens and diffusers olfactory.
10) Aéroville €€€
30 Rue des Buissons, 95700 Roissy-en-France
(RER B: Roissypôle / Parc des Expositions & Bus: 39/349 stop at Aéroville)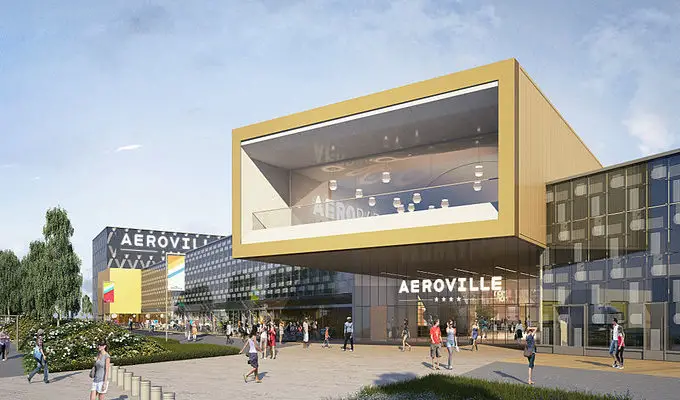 Credit © Gabatunib
It is perfectly located very close to Roissy-Charles-de-Gaulle airport: only 10 minutes by car.
Daily transit tourists, businessmen and neighbors cross each other during their shopping spree.
This shopping center is known for its natural scents and soothing music in the entrance halls and staircases, similar to the noises that can be heard in nature.
On the spot, everything is present to meet their desires: cinema Europacorp, wide choice of restaurants, supermarket Auchan, sports hall, and clothes shops, decoration, beauty, games, leather goods, or even jewelry mix.
Also, once a month the center organizes events. In addition to the playground dedicated to children, the center organizes activities for the children in order to let the parents enjoy their shopping spree.
And they are not the only workshops offered: DIY workshop ("Do it Yourself") and culinary workshops with starred chefs like Cyril Lignac, Norbert Tarayre or the little prodigy of Top Chef Ruben Sarfati.
During these free workshops on registration, you learn while cooking with its chefs of the original recipes, in a friendly atmosphere before going to the tasting.
Most ? A coach shopping is at your disposal on request, to guide you in your choices or to answer them.
Open every day from 10 am to 8 pm
Our opinion: it is spacious, design, well decorated and full of shops. Very convenient if you are going to the airport but you are early for your flight or even just landed. You have a diverse range of restaurants leaving you free choice. There are several successful banners, particularly for medium-sized budgets.
The Outlets
Outlet stores, also called factory outlets or stores, are shops selling the previous collection at low prices. Ideal for families, students on a budget or people who care about their money. Crack without feeling guilty!
11) The Village Valley €
3 Couronne Garonne, 77700 Serris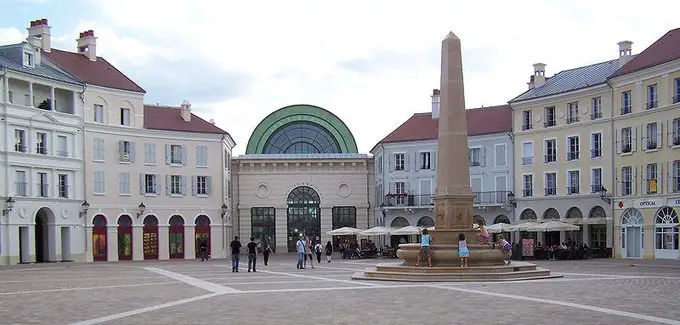 Credit © Rcsmit
La Vallée Village is the reference outlet for luxurious brands.
Located 35 minutes from Paris, and only 5 of the famous Walt Disney theme park, these shops in small outdoor chalets offer you a stroll in this picturesque village.
A 2 minutes walk from the traditional shopping and leisure center Val d'Europe, there is something to satisfy all your desires.
With its 120 fashion boutiques and high-end leather goods such as Jimmy Choo, Balmain, Guess, Michael Kors, and Lancel, it's the place to do good business!
The prices of items from the previous collection are at least at -30%, and they even go up to -70%, during private sales. These private sales require a simple registration online, and take place 2 weeks before the sales, in order to avoid the crowd …
You are not conveyed? We have a solution for you ! This is very simple and very affordable at 25 € per person. Take the "Express express" shuttle bus to Place des Pyramides (two steps away from the Louvre Museum) at one of the two opening times: 9:30 am or 1:00 pm. And come back to Paris for 16h or 18h45. It's up to you to decide whether a half day is enough for you, or if you want to enjoy this place all day.
More information and booking: http://www.cometoparis.com/eng/catalog/la-vallee-village-9000496
Open every day from 10h00 to 19h00
Extension on Saturdays from 10h00 to 20h00
Our opinion: Nice set of shops with quality articles and very interesting prices to buy the previous collection of big brands.
Our opinion : We like its village aspect with small houses.
12) Usine Center (Paris Nord II) €
Avenue de la Plaine de France, 95500 Gonesse
(RER B Station Villepinte Exhibition Park and Bus 640, stop at the Commercial Center)
Located 45 minutes from Paris, Usine Center is the outlet center of the suburbs of Paris. Many of the world's top brands such as Nike, Leonidas, Valege and the pioneer of jeans Levi's are present.
The 100 boutiques of clothing, shoes, leather goods, chocolatiers and restaurants at low prices defying any competition are present to make you realize good deals.
These 100 shops will offer their collection of the previous season with discounts ranging from 40% to 80%.
Most ? In period of sales, these prices already outlet accumulate a second discount, a good excuse to crack even more and to remake his wardrobe!
Open from Monday to Friday from 10 am to 7 pm
And weekends from 10 am to 8 pm
Our opinion: Commercial gallery which has a large selection of shops, at prices often very interesting. On weekdays there are few people and there are a few shops out there that can do good business.
13) One Nation Paris €€€
1 rue du Président Kennedy, 78340 Clayes Sous Bois
(Bus 44 and 50 stop Entrepreneurs Valley
Bus 20 stop Clayes
Transilien N station, Station Villepreux les Clayes)
Located just 30 minutes from Paris, and only 10 minutes from the Château de Versailles, One Nation is the ideal place for high-end shopping at discounted prices! While combining the same day culture and shopping.
There are 400 major brands at reduced prices throughout the year, from -30% to -70%, private sales and previews!
The excessive prices of Galeries LaFayette discouraged you in your purchases? Find the One Nation Outlet Galleries and get back on your thoughts …
Many prestigious brands like Armani, Gant, Diesel or Cacharel will have items that you like for sure (and especially at low prices for high-end.)
Hugo Boss Dresses at 140 € instead of the original price of 700 €, Of the Reebok sneakers at half price, Guess watches for less than 200 €.
Shopping is hollow … Give yourself a moment of rest around a good Italian meal in La Fraschetteria, a café with the King of Strasbucks coffee, a homemade dish at the Monument Café or homemade burgers at Maison Foude.
Did not find the perfect gift for your loved ones? A small visit to the master chocolate makers Godiva or Lindt or to Kusmi Tea for tea enthusiasts.
Open from Sunday to Friday from 11h00 to 20h00
and Sunday from 10h00 to 20h00
Our opinion: A lot of prestigious brands with attractive prices especially during periods of promotions. However the center is open to the outside so it can get cold and wet in the winter or hot in the summer.